Beth Rocchio, MD ~ Board Certified Weight Management Physician (Hahnemann University, 1997)
Dr. Rocchio practices what she calls Integrated Medical Weight Loss. She believes that when it comes to effective weight maintenance, the whole is greater than the sum of the parts. She treats each patient individually and considers the role of food, physical activity and medical factors; as well as mental, emotional, social and spiritual factors and how they all might be affecting a person's weight.
She has been maintaining a 50 pound weight loss herself for 14 years without a fad diet, excess exercise, pill or surgery. Her own path has been a combination of 12 step recovery, mind-body medicine and spiritual growth. For this reason her greatest passion is to find a way to give others what she received, helping them to "grow inside" in order to "shrink outside".  One of her favorite mottos is "Peace of Mind Protects from Piece of Cake".
Dr. Beth is board certified in Family Medicine and in Obesity Medicine.  She has had continuing  education in mind-body medicine and spirituality at Harvard University, UMASS, Kripalu, Omega Institute Hope in Healthcare, American Meditation Institute and EBT.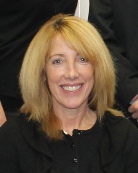 Patrice French, RNP, Nurse Practitioner (Northeastern University, 1985)
I have worked with Dr. Rocchio at IMWL as an Adult Nurse Practitioner since 2010.
I am constantly learning about obesity and all facets of it through workshops, reading multiple books, speaking with people in the obesity field and meeting with patients.
I believe that weight and issues surrounding our weight are comprehensive and multi-factorial and that obesity is a chronic, relapsing, remitting disease.
At our initial visit, I obtain a complete history of your life with food starting as a child and discuss triggers, trigger foods, stressors.  We also review your medical, family and social history.
My role is to guide, educate and help you set goals to help you achieve a lifestyle change through nutrition, exercise and emotional guidance. I have a personal passion for helping people with binge eating disorder and working on this very complex issue.
I believe in the body's ability to heal itself emotionally and physically.
Carol "Rosey" Rowsemitt, PhD, RN, FNP (University of Utah, 2000)
Carol "Rosey" Rowsemitt, PhD, RN, FNP was a practicing scientist studying ecological physiology (BA chemistry, PhD biology) before going to nursing school to become a family nurse practitioner. She has specialized in weight management since 2003 and understands that for many people, the body protects against weight loss by increasing interest in food and decreasing metabolism. These are two of the many reasons that losing weight and keeping it off are difficult. Evaluating and treating "famine response hypothyroidism" involves thinking about thyroid function from the broader perspective of ecological physiology.
Her passion is to communicate these ideas so that patients have a better understanding of the meaning of their thyroid levels. Originally from the Boston area, Rosey lived for many years in Salt Lake City, Utah, and the Central Coast of California. She has recently relocated from California to Rhode Island. She is an active member and a fellow of the Obesity Medicine Association.